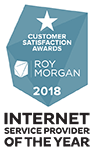 We have the
most satisfied

NBN™ customers in Australia

iiNet was named Internet Service Provider of the Year in the 2018 Roy Morgan Customer Service Awards AND Australia's Best NBN provider for speed and customer satisfaction in the 2018 Choice Survey. Our award-winning customer service sets us apart from the rest.Show more

Why are iiNet NBN™ customers the most satisfied? It's simple: we look after them! We've been working with the internet since the dialup days and our experience has shaped us into the NBN™ experts. To date, the iiNet Group has connected over 500,000 NBN™ customers with industry-leading customer service and unlimited data at affordable prices.

With over 25 years of experience connecting Australians, customer service has always been our #1 focus and other companies are taking notice! Our recent award for Internet Service Provider of the Year comes from Roy Morgan, a leading independent consumer and market research company in Australia.

On top of this, our customers get the flexibility of no lock-in contract options and peace of mind with 24/7 tech support. Any time of the day or night: you need us, we'll be there!
We'll connect you to

fast, reliable

internet

iiNet NBN doesn't just have industry-leading customer service; we've also got high-performance NBN services with the speed you need to get things done! According to the latest ACCC's Measuring Broadband Australia Report, iiNet's NBN50 plans beat Telstra and Optus for overall download % of maximum plan speed.

Source: ACCC Measuring Broadband Australia Report, 4th February 2019