Media release
TIO Annual Report
18 October 2017
We are disappointed with the rise in the number of TIO complaints received which are related to the increased NBN rollout in the past year. We are constantly optimising our customer service ethos and in the most recent month (September 2017) our performance has improved with a -21% year on year drop in TIO complaints.
iiNet continues to have a much lower number of internet related TIO complaints per broadband customer and a significantly lower NBN™ TIO complaints per NBN™ customer than our main competitors.
iiNet has topped the NBN™ satisfaction ratings in both Choice's 2017 Internet service provider satisfaction survey and Canstar Blue's 2017 annual review of NBN™ providers and this reflects iiNet's ongoing commitment to customer service.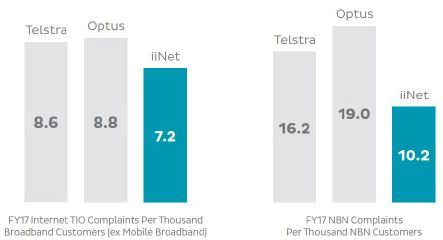 Telstra retail data sourced from Full Year Results Reporting and Supporting Material (Jun-17, Jun-16)
Optus data sourced from Quarterly Results (Jun-17. Jun -16)
For more information about iiNet, visit: https://www.iinet.net.au/about/history