WiFi networks
iiNet is involved in a number of major initiatives outlined below.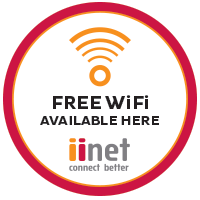 Victoria Wi-Fi

VicFreeWifi is a free public WiFi network, built and maintained by our parent company, TPG, which extends throughout the central areas of Melbourne, Ballarat and Bendigo. For details of the hotspot locations, please visit www.vic.gov.au/wifi.
How to connect
Connecting to the Victorian free public WiFi network can be done in four easy steps.
Locate your nearest WiFi hotspot.
Go to the WiFi settings on your mobile device and select VicFreeWiFi.
Follow the prompts on the screen to connect.
Start using WiFi.
No details such as email passwords or other personal data, need to be provided to use the free public WiFi.
Customer Support
For help with using the Victorian free public WiFi network, please contact us on 1300 668 847.
Adelaide City WiFi

Our friends at Internode have led the way for free wireless network coverage in Adelaide over the past 10 years, and now the new Adelaide Free WiFi network is taking things to the next level!
In addition to the extensive & expanding Adelaide Free WiFi network, Internode also have hundreds of other hotspots established around the country.
For more information, visit the Internode website.
Canberra WiFi

Australia's largest free public WiFi network has been announced by iiNet and the ACT Government. Twelve locations across Canberra will receive WiFi coverage by June 2015.
How to connect
Simply search for 'CBRfree' on your device and once you've accepted the Terms and Conditions you'll be free to browse while out and about!
Anyone can access the WiFi for free with a daily limit of 50MB. Sessions expire after 30 minutes but as long as you haven't exceeded the 50MB limit, there's no restriction on reconnecting.