iiNet Wireless Hotspots
iiNet is a leading provider of public WiFi networks and WiFi hotspots in Australia. We are connecting Australians across the nation with free access to our wireless hotspots in social precincts, shopping strips and business centers.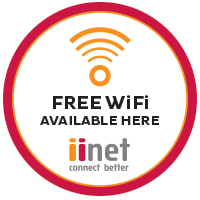 How to connect
Wherever you see the iiNet FREE WiFi logo, you can connect your device by selecting the "iiNet Free WiFi" network and following the steps on-screen. Anyone can access the WiFi for free with a daily limit of 50MB. Sessions expire after 30 minutes but as long as you haven't exceeded the 50MB limit, there's no restriction on reconnecting.
More options for iiNet customers
iiNet customers can choose to tap into their home broadband quota by logging in to the 'iiNet Customer' network with their account details. This premium, secure iiNet Customer WiFi service has no time or download limits - data usage from the session will simply be deducted from your monthly broadband quota. The usage will be displayed as 'National WiFi' in Toolbox.
WiFi networks
iiNet is involved in a number of major initiatives outlined below.
Public WiFi Help Desk Support Line
Connection troubles? Call 1300 668 847
Monday-Friday 9am-5pm(WST)