Shopping cart design
shopping cart design
With iiNet′s Shopping Cart it is simple to set up a professional looking online store within a few minutes. With over 300 free pre-built templates to choose from as well as premium design options you will have your very own online store up and running in no time!
iiNet′s Shopping Cart comes with many design options no matter what your budget!
check out some examples below: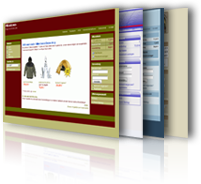 free templates
iiNet's Shopping Cart comes with a range of free pre-built templates to get your online shop up and running. Have a look at some of the themes below. Most can be easily customised to suit your company's branding without any cost.
click on an image below to see a close up
premium templates
Would you like a professional to design your store for you? iiNet has partnered with some local businesses that bring their graphic design expertise to your store.
check out our Shopping Cart designers & their offers
blacklight productions
fernbrook business services
shire websites