iiNet & AFACT - copyright case
Those keeping track of the landmark copyright case between iiNet and film & television industry organisations will know the case has ended up in the High Court of Australia.
Background
In mid-2008, the Australian Federation Against Copyright Theft (AFACT) began sending notices to iiNet alleging that iiNet's customers were making movies and TV episodes available by sharing online using BitTorrent, which is a breach of the Copyright Act.
These notices included IP addresses, times, dates and movie titles, with AFACT demanding iiNet take unspecified action against these customers to stop them infringing in the future.
At the time of receiving these notices iiNet had no idea how this information had been collected, so the notices were regarded as mere allegations. It was also unclear to iiNet what steps could possibly be taken that would be fair to customers. In our view, AFACT was asking iiNet to punish customers on the basis of unsubstantiated allegations. There was no industry standard or position and we were unaware of any other ISP doing anything similar.
It's important to note iiNet does not support copyright infringement. To the contrary, we've been a leader in making legitimate content available to our customers. This includes arrangements with iTunes, FetchTV, Barclays Premier League football, plus our very popular Freezone. Currently, our Freezone videos are attracting 200,000 views per month and our TV subscription service, FetchTV, offers a library of over 1,000 movies, with more than 10,000 purchased every month.
The Federal Court
In December 2008, 34 movie studios commenced action against iiNet in the Australian Federal Court. iiNet won that case, with the court finding iiNet was under no obligation to protect the rights of third parties such as the studios. The studios appealed that decision to the Full Bench of the Federal Court. The appeals court also found in favour of iiNet; deeming we acted reasonably and are not liable for the actions of its customers.
The High Court
On 20 April 2012, the High Court dismissed the final appeal lodged by Roadshow Films & Others against iiNet. Chief Executive Officer, Michael Malone, said the judgment supported the company.s position and proved the claims made against it were unfounded.
Judgment - Roadshow Films Pty Ltd & Ors v iiNet Limited
December 2011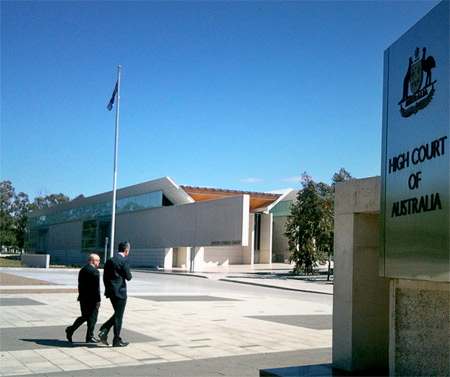 Michael Malone and Steve Dalby head in to the High Court of Australia. Courtesy: Tim Grau
As a way of background, a group of Hollywood studios brought iiNet to the Federal Court in Sydney back on 6 October 2009. The claims that iiNet had 'authorised' copyright infringement were rejected twice.
A final appeal was brought to the High Court and heard between November 30 and December 2. The five High Court judges are expected to hand down their judgments next year.
In this hearing, the studios spelled out what they expect, if they win. They want to send us an IP address, where they have detected one of their movies being made available via torrents. They then want us to send the customer a 'take down notice' to delete the movie file. If the studios detect the file is still there seven days later, they want iiNet to suspend the account.
iiNet has never condoned or encouraged copyright infringements - but we don't accept that threatening or disconnecting customers is the solution to infringements.
While we wait for the result we will continue to encourage industry discussions for a solution to infringement and will cooperate with any legal obligations imposed on us.
Further information, including the full transcript of the High Court Case is available below:
//www.hcourt.gov.au/cases/case-s288/2011
High Court transcripts (30 Nov - 2 Dec):
Friday 12th February 2010
Well, the dust has settled for now on the Roadshow Films & Ors v iiNet Ltd case after the judgment was handed down last Thursday morning by his Hon. Justice Dennis Cowdroy.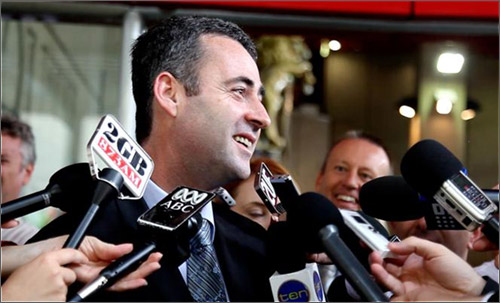 Picture courtesy Munir Kotadia, iTnews. source: www.itnews.com.au
iiNet post-judgment press release
In front of a packed courtroom, Justice Cowdroy read from a prepared statement that ran for just over 20 minutes and concluding with 'the applicant's (Roadshow Films & Ors) case is therefore dismissed'.
iiNet were found not guilty on the claim that iiNet had infringed the copyright of the applicants' respective films by authorising copies of those films without licence.1
Justice Cowdroy's full judgment, at 636 paragraphs, is a recommended read for those interested in the case and we can vouch that it is written in a very easy to understand style.
A Google News search will turn up countless examples of global media coverage of the trial and the judgement; we've had a few late nights reading through how the press has presented the case throughout the proceedings, as well as the judgment on the 4th of February. A throng of cameras and microphones met Michael as he left the court house, to share his views and answer questions on the trial outcome.
It was with interest that we watched international media pay close attention to the case, no doubt considering the precedent this case has set for global copyright law.
Online media articles we thought worthy of highlighting can be seen via the links below:
The case has spurred on some interesting debate on a range of topics including the supply of legal content, other areas of copyright law and the government's proposed filtering policy – 'iiNet case dealt filter a body blow, David Braue, ZDNet'. We're obviously very pleased with the ruling and continue to support the supply of legal content. We have a great range of content available, unmetered, in the iiNet Freezone.
1AFACT claimed that the respondent has infringed the copyright of films contained in each of the applicants' respective film catalogues by authorising the making in Australia of copies of, and by authorising the communication in Australia to the public of, the whole or a substantial part of those films without the licence of the applicants. Further, that the respondent carried out such infringing acts flagrantly and that such infringements, together with other likely infringements, were conducted on a commercial scale for the purpose of s 115(5)(d) of the Copyright Act 1968 ('the Copyright Act')
Wednesday 25 November 2009
2:30pm WST: The last scheduled trial date is tomorrow and since our last web update, both Mr Bannon and Mr Cobden and their respective teams have been running through their closing submissions.
Justice Cowdroy also heard yesterday from the Internet Industry Association's (IIA) legal team with Peter Coroneos taking the stand for cross-examination by Mr Bannon. We've packaged the closing submissions into the following chapters, feel free to have a read through...
Chapter 1
This is an introduction and provides an outline to the case.
Chapter 2
Addresses the important aspects of the evidence adduced during the trial. It also responds to the unwarranted attacks on the credit of Mr Malone and Mr Dalby in the applicants' closing submissions ("ACS"). A series of careful logical steps which should be answered, in iiNet's submission, is then presented as follows:
Chapter 3
Primary infringement is addressed. iiNet submits that in the final analysis the only acts of primary infringement that the Court will find, on the balance of probabilities, are likely to occur in the day-to-day activities of some iiNet users are the making available of cinematograph films online to the public, and the associated making of copies on some users' computers.
Chapter 4
The so-called Digital Agenda reforms are considered in this chapter. (Sub-section 101(1A) and section 112 of the Act, which were introduced in 2000).
Chapter 5
Deals with the principles of authorisation liability and their application in the present case. The question of authorisation should be approached on ordinary and orthodox principles. Despite the applicants' rhetoric, this case goes well beyond any other, anywhere in the world, in attempting to extend liability to a utilities provider/carriage service provider for authorisation of copyright infringement. iiNet will succeed on the issue of authorisation on an application of the ordinary and well established principles of that doctrine.
Chapter 6
The reasons are advanced in detail regarding section 112E which provides iiNet with a complete defence to the applicants' case. This is the 'mere conduit' exemption which applies to carriage service providers.
Chapter 7
Contains the argument for the proper interpretation of Part 13 of the Telecommunications Act 1997 (Cth) (the "Telco Act"). iiNet could not lawfully take the steps which the applicants demand.
Chapter 8
The safe harbour provisions dramatically limit the remedies available to the applicants. This chapter addresses the construction of the safe harbour provisions of the Act and their application to this case.
Chapter 9 (with attachment)
The conclusion in these submissions answers the questions raised in the statement of issues annexed to iiNet's written outline of opening submissions. iiNet submits that the Court would answer those questions in the same manner with the result that the Application would be dismissed with costs.
Schedules: 1, 2, 3, 4
The submissions included various schedules, including summaries of the extensive legal content available on iiNet's Freezone or elsewhere on the Internet.
Tuesday 10 November 2009
4:00pm WST: AFACT's barrister, Tony Bannon SC, continued his concluding statement in the Federal Court today. He is expected to continue his statement tomorrow. The Court is likely to then adjourn for a period before iiNet's barrister, Richard Cobden SC, commences his detailed outline of iiNet's defence in their concluding statement. Mr Cobden's statement is similarly expected to take a number of days.
As a result, it is now anticipated that the case will continue for an extra day of hearings next week on Thursday and on Wednesday the following week.
Monday 9 November 2009
1:30pm WST: AFACT's barrister, Tony Bannon SC, commenced his concluding statement in the Federal Court today. Mr Bannon is expected to continue his concluding statement tomorrow and possibly over part of Wednesday.
iiNet's barrister, Richard Cobden SC, will follow Mr Bannon providing the detailed outline of iiNet's defence in his concluding statement. Mr Cobden's statement is similarly expected to take a number of days.
Thursday 5 November 2009
3.30pm WST: After three and half days in the stand Michael Malone finished giving evidence in the Federal Court today.
Michael said he was pleased to have completed his evidence and to have been able to vigorously defend allegations that iiNet encouraged and authorised customers to share and download films in breach of copyright laws.
He said he remained confident of iiNet's defence and position and in the case.
He said iiNet has never in any way supported or encouraged breaches of the law, including infringement of the Copyright Act.
Michael also said iiNet does not and never has authorised illegal sharing or downloading of files in breach of copyright laws. He said on the contrary he was pleased to be able to spell out how iiNet's Freezone encouraged customers to freely access licensed legal copyright content.
Michael also said, in response to claims that high volume internet users were illegally downloading materials, that there was a wide range of legal and legitimate uses for uploading and downloading material using the internet, including watching movies from the film and televisions studios' own websites.
He confirmed to the court that iiNet would cooperate with copyright holders and law enforcement agencies if the appropriate court orders, warrants or legal processes were followed. But he said iiNet had no duty or obligation to threaten its customers with disconnection, suspension or limiting internet accounts simply because a third party, Australian Federation Against Copyright Theft (AFACT) had made an allegation of copyright infringement.
In response to questioning from the movie and television studios' barrister, Tony Bannon, about filtering or blocking websites, Michael told the court he consider it completely beyond iiNet's technical capability or indeed that of any other ISP to completely and conclusively block access to a particular website.
He confirmed that if a customer was found guilty of, or admitted to, breaking the law in relation to copyright matters, iiNet could take action against them under the company's Customer Relationship Agreement.
After Michael's testimony was completed, Steve Dalby commenced giving his evidence and he is expected to continue tomorrow.
Wednesday 4 November 2009
3.00pm WST: AFACT's barrister, Tony Bannon continued questioning Michael Malone today. Michael was in the stand all day again. The topics covered today included iiNet's Freezone, including iTunes, Quickflix. Michael reinforced that iiNet's Freezone was, in part, designed to encourage iiNet customers to access legal content freely. Michael was also questioned about the operation of quota and shaping, the extent of BitTorrent usage and questions regarding iiNet's training materials.
Michael is due to finish in the stand tomorrow morning with Steve Dalby then called to give his evidence.
Tuesday 3 November 2009
3.15pm WST: Michael Malone continued giving evidence today with AFACT's barrister, Tony Bannon questioning him the entire day. The issues Michael was questioned about today included iiNet's practice of forwarding notifications to the police, the Internet Industry Association's draft code of conduct, iiNet's Customer Relations Agreements, the activities of other smaller ISPs and iiNet's training materials.
Michael will continue his testimony tomorrow morning with Steve Dalby also expected to appear for the first time.
Monday 2 November 2009
4:00pm WST: The Federal Court case recommenced its hearings today with Michael Malone taking the stand and questioned throughout the whole day by AFACT's barrister Tony Bannon SC on behalf of the movie studios.
In his testimony, Michael reaffirmed and confirmed much of iiNet's defence. In particular, Michael restated that iiNet did not support breaches of the Copyright Act and did not encourage people to do so. He indicated iiNet had always been willing to assist copyright holders and encouraged them to get the necessary Court Orders to pursue anyone allegedly breaching their rights.
Michael also explained in detail why the Westnet policy on how to deal with AFACT notifications and allegations was changed to be consistent with the pre-existing iiNet policy.
Michael was questioned at length on the operation of BitTorrent and uTorrent. He reaffirmed that iiNet did not own or operate the protocol and client.
Michael will continue giving evidence tomorrow.
Wednesday 14 October 2009
5:00pm WST: Today's Federal Court hearing saw four American movie studio executives, from Warner, Disney, Paramount and Fox, cross-examined via video link.
Technical expert, Mr Carson also concluded his evidence.
Mr Williams from the law firm Gilbert and Tobin, who act for AFACT, commenced his evidence this afternoon and was cross examined by one of iiNet's barristers Mr Richard Lancaster SC. The cross examination of Mr Williams is expected to be completed tomorrow.
Two more American movie studio executives will also appear via video link tomorrow morning when the hearing resumes.
Michael Malone and iiNet's other witnesses are now not expected to appear before the court to give evidence until its November hearings which commence on 2 November.
Tuesday 13 October 2009
3:45pm WST: The Federal Court hearings continued today with two witnesses from DTecNet, the company engaged by AFACT to investigate allegations of copyright infringement. Most of this evidence was heard in closed Court due to confidentiality issues.
Mr Phillipson from Village Roadshow and Mr Carson, an expert technical witness, were also cross-examined by iiNet's barrister, Richard Cobden SC.
The hearing will continue tomorrow, with Mr Carson and a number of American-based movie industry executives expected to give evidence and be cross-examined.
Monday 12 October 2009
3:15pm WST: The Federal Court resumed today with the Justice Cowdroy first ruling that a series of documents that AFACT had sought to have excluded from the trial should be included and considered.
In doing so, Justice Cowdroy indicated the documents should be admitted because they may be relevant to the question of reasonable steps. He said this is because iiNet contends that it did not act on the notifications of AFACT because the steps to do so would have been unreasonable due to a variety of reasons. iiNet contents that a reasonable course would be for it to respond to orders of a Court requiring it to disclose customers details to AFACT, but not otherwise.
He further said it is relevant to that analysis to show that, at least at the point in time in question, the body charged with combating piracy for the Applicants/one of the Applicants themselves thought that such a course of action was reasonable enough to make submissions to the Attorney-General about streamlining such a procedure.
On documents relating to the Telecommunications Act Justice Cowdroy ruled that they too should be considered because they were relevant to demonstrate that Telstra had taken a similar position with AFACT in 2007.
iiNet's barrister, Richard Cobden SC, cross-examined three AFACT witnesses, including one of their investigators.
It is expected that Mr Cobden will continue cross-examining AFACT witnesses tomorrow.
Thursday 8 October 2009
12:45pm WST: Film studios have contractual relationships with companies that allow illegal downloads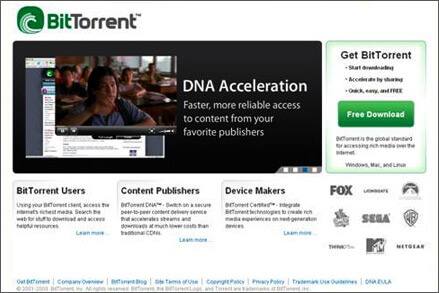 You can download our full press release here:
Continuing his opening statement today, iiNet's barrister, Richard Cobden SC, said the BitTorrent website which hosts the software and promotes downloading and sharing of files clearly displayed the logos of several of the film studios who have pressed the case against iiNet.
As shown above, the BitTorrent.com homepage displays the logos of Fox, Paramount and Warner Brothers - all applicants in the AFACT claim. A number of other studios in the case also have contractual relationships with BitTorrent or related sites and companies.
Despite the connection with several of the applicants, there were no warnings on the sites about downloading copyright material.
By contrast, iiNet does not own, control, promote or support BitTorrent software.
Similarly, by contrast, iiNet warns customers against downloading copyright material illegally.
Mr Cobden also said that if all the copyright notices iiNet received from film studios over a five month period were printed it would take 180 large folders and more than 12 trolleys to bring them into the court.
Mr Cobden also revealed that Telstra, Australia's largest Internet Service Provider, had also written to AFACT indicating Telstra did not agree with AFACT's method for combating copyright infringement.
Liam Tung, journalist for ZDNet Australia is also providing live courtroom updates: //twitter.com/LiamT
Wednesday 7 October 2009
7:00pm WST: AFACT claims novel, adventurous and dramatic extension of existing law
iiNet began its defence in the Federal Court copyright case today with its barrister, Richard Cobden SC, commencing his opening statement.
Mr Cobden told the Court the film and television studios' claims were a novel and adventurous proposition and a dramatic extension of the application of existing law.
Mr Cobden said iiNet had no duty or obligation to threaten its customers with disconnection, suspension or limiting internet accounts simply because a third party, Australian Federation Against Copyright Theft (AFACT) had made an allegation of copyright infringement.
He detailed to the Court how claims made yesterday that thousands of copyright infringements has occurred were artificially inflated by a contrived process.
Mr Cobden reinforced that iiNet does not support, or encourage, breaches of the law, including infringement of the Copyright Act.
In fact there is no evidence that any actual iiNet customer breached the Copyright Act.
In response to claims that high volume internet users were illegally downloading materials, Mr Cobden detailed a wide range of legal and legitimate uses for uploading and downloading material using the internet, including watching movies from the film and televisions studios' own websites.
Mr Cobden is expected to continue his opening statement tomorrow before AFACT calls its first witness.
Our full press release can be seen
here
.
Tuesday 6 October 2009
5:45pm WST Well, the first day of the trial has been & gone - if you need to get up to speed before reading on, here is iiNet's most current press release - iiNet welcomes start of Federal Court copyright case.
Here's a quick breakdown of today's events:
The first day consisted of Mr Bannon, the film and television studios' barrister, delivering his opening submissions.
Mr Bannon's statement involved discussing and demonstrating in detail the application of BitTorrent software and explaining how it can be used.
Additionally, Mr Bannon outlined how AFACT's investigators compiled a list of IP addresses.
Mr Bannon will continue tomorrow morning. It's anticipated that iiNet's barrister will also commence his opening submission tomorrow morning.
The trial has attracted a fair amount of media coverage today, some of which we've linked to below:
Andrew Colley, journalist for The Australian has been tweeting regularly, direct from the court room with his view on proceedings: twitter.com/AndrewColley