iiNet NBN Satellite
iiNet NBN Satellite delivers reliable, super-fast broadband and big beefy quotas to regional Australia - because you shouldn't have to be a city slicker to enjoy fast Internet.
Satellite plans come with up to 6/1 mbps speeds and 20GB of 'Anytime' download quota each and every month. Bundle your Satellite service with phone and you'll save up to $10 on your broadband, too. Sweet.
Choose your quota
Speed

How fast is NBN Satellite?
iiNet NBN Satellite Plans run at 6/1 mbps. These are maximum NBN access port speeds.
Data transfer speeds to individual premises may differ.

Addons
Phone

Great call rates & benefits

Call 13 19 17 to signup today.
Download the NBN Satellite Critical Information Summary
Get in quick
Right now the NBN Satellite service is limited to just 48,000 end users - so act fast to secure your spot. Here's the rundown on eligibility and priority for the new Satellite signups:
Priority 1 - Those who've never had an Australian Broadband Guarantee (ABG) service, or lost the ABG service through no fault of their own.
Priority 2 - Those in metro areas who can't get NBN broadband services, but have had a working ABG service connected for more than three years.

Check your eligibility for NBN Satellite.
Ready for iiNet NBN Satellite? Call us on 13 19 17 (8am - 5pm WST)
We'll guide you every step of the way towards better broadband with the NBN.
All iiNet NBN Satellite Plans come with:
Anytime Quota
use your quota anytime you like.
10 email addresses
1GB webspace
Complimentary email protection
ward against virus & spam threats
No excess quota usage charges
We just shape your excess use
Dedicated customer service
A helping hand when you need it
NBN Satellite and BoB Lite™ - a perfect match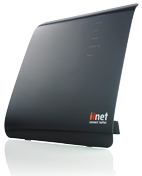 BoB Lite™ is sleek, stylish and packed full of features making it easy to connect your home to iiNet NBN Satellite. See more.
More on iiNet NBN Satellite
No Setup Fees.
No excess usage fees. Reach your quota limit for the month and we'll just shape your connection speed to 128kbps/128kbps.
iiNet NBN Satellite does not include access to iiNet Freezone, Data Packs or Netphone.
Read the NBN Satellite FAQs, or email nbn-satellite@iinet.net.au or call us on 13 19 17 (8am-5pm WST).