network diagrams
In addition to installing our DSLAM's into exchanges, our network includes links between exchanges, capital cities and the rest of the world, as well as many different types of hardware that helps supply you with such things as email.
Those who are more technically minded may find the following diagrams of our National and Global Networks interesting:
The iiNet Global Network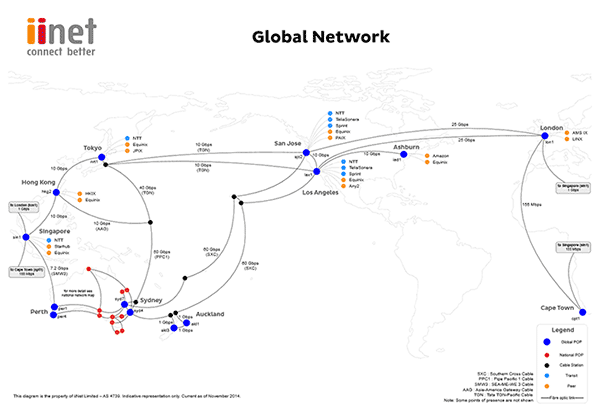 The iiNet Global Network (PDF)
The iiNet National Network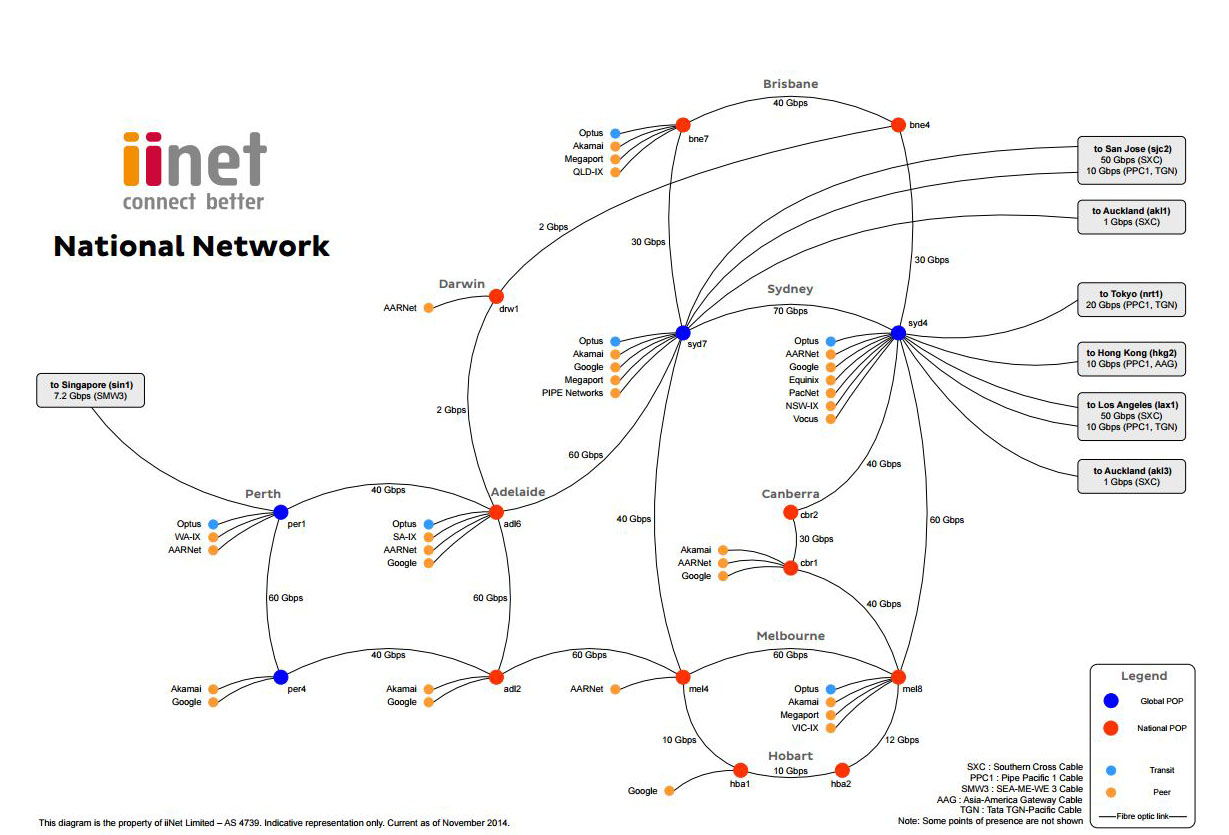 The iiNet National Network (PDF)
Within each State
The capital city in each state supports the state, and has diverse links back to our International Gateways (shown in the National Network map above). These links are geographically diverse to provide protection from major cable cuts and to ensure connectivity. The transmission capacity of the links is also shown.
We also have Peering links in each city which are shown by the dark grey links.
This can be further broken down into the following diagram which shows the next level of our network setup.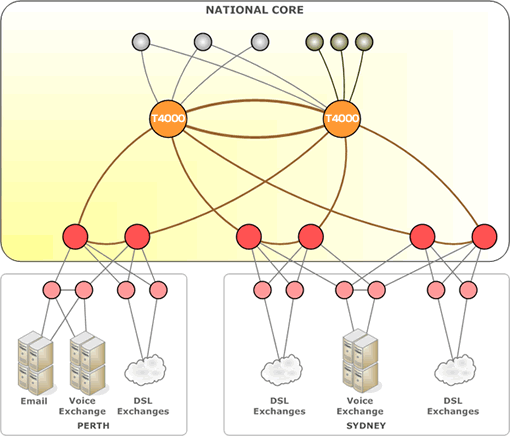 In Sydney we utilise Juniper T4000 routers as our national core of the network. Each T4000 is located in physically diverse data centres to ensure maximum uptime and reliability to our customers. A single T4000 router can sustain throughput up to 3.84 terabits per second.
Each border router then has smaller links down to various devices such as our Broadband and Dial termination routers, VoIP and DSLAM equipment. In Perth we also have our customer infrastructure such as Email, Web and DNS hosting.
Again, the light grey links are Transit, and the dark grey links are Peering.
Finally -- ever been interested in how much email goes through our network each day? Check out the following diagram.

Currently, iiNet receives 15 million emails into our network every day.
We use Ironports to supply the best possible level of email filtering available today. They remove spam and virus emails and this reduces the volume by approximately 98%.
The cleaned email is sent to our mail servers where it is available for customers to view via Webmail or download.
We have over 7 Terabytes of disk storage where email waits to be viewed or downloaded.
Network History
We've come along way, since our humble beginnings. Here's a look back at how our iiNetwork looked way back in May 2000.