iiNet wireless bridge
To avoid running a long cable through the house, the iiNet Wireless Bridge offers a dedicated connection between your BoB2™ or BoB Lite™ at one end of your home and your fetchtv service, Xbox or any Ethernet enabled device that requires an internet connection at the other end.
the basics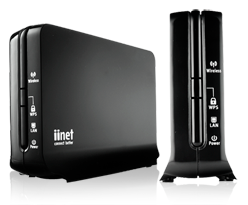 $119 per pair
Developed by iiNet Labs for use with fetchtv.
Effortlessly stream high definition video between BoB2™ or BoB Lite™ and your fetchtv set top box without wiring or cables.
5Ghz wireless means faster speeds and less interference with other wireless devices.
Can also be used to wirelessly connect other media applications, such as gaming consoles.
why use the iiNet wireless bridge?
No need for expensive rewiring or running of ethernet cables throughout the home.
Seamless video without jitters or picture problems.
Plug and play – set up in minutes.
Eliminate wireless dead spots and boost wireless range.
features
Point to Multipoint solution architecture supporting up to eight (8) different concurrent HD streams and advanced throughput for demanding home networking topologies such as Multi-Room DVR
IGMP snooping, Multicast to Unicast translation and WDS support for seamless IPTV network integration
Wi-Fi Protected Setup (WPS) for simple setup and security configuration
HTTP-based GUI management and software upgrades
Supports WEP, AES-CCMP / Wi-Fi-WPA2
technical specifications
Hardware
2 × Wireless Bridge units
Dimensions
Depth 140mm
Width 48mm
Height 98mm
Power
12VDC
Antennas
Omni-directional Internal
LED display
Power, Ethernet, Wireless, Video link quality
Control buttons
WPS push button, Reset button
WiFi
802.11n (up to 300Mbps)
WMM, WMM-PS, WPA, WPA2, WPS
Encryption
AES, TKIP, WEP64/128
Baseband
2x3
RF
5Ghz
Modulations
BPSK, QPSK, 16-QAM, 64-QAM
FEC
1/2, 2/3, 3/4, 5/6
Ethernet
1x10/100
Channel Bandwidth
20Mhz, 40Mhz
Management
Web Based
Operating Temperature
0 (degrees) to ~70 (Degrees C)
Certification
C-Tick