Modems & routers
Before you can get online, you need some doovalackeys. Here's our range. Read through and choose one that you think suits your needs. If you need some advice, just call us on 13 19 17.
| features | BoB2™ 4-port wireless VOIP router, incl. handset | BoB Lite™ |
| --- | --- | --- |
| 24-month agreement price | $199 | $69 (save $60) |
| price | $279 | $129 |
| VOIP ready, PSTN failover | | |
| connects multiple computers | | |
| wireless networking | | |
| automatic configuration | | |
| Built in answering machine | | |
| Fetchtv compatible | | |
| USB data storage and charging facility (eg. iPod, iPhone, BlackBerry) | | |
| compatible with BoB2™ handset (supports up to 5) | | |
| includes integrated DECT handset | | |
hardware
price
BoB2™ – 4-port wireless VOIP router, including handset
$279 outright or $9.95/month rental

BoB2™ is an all-in-one device for your internet and phone. With BoB2™ in your home, you get:

Super fast broadband internet access throughout your home
Hassle-free, plug and play setup
Best in class wireless range to connect every room in your house
Built in answering machine
fetchtv capability

BoB2™ comes with a matching handset that includes the following awesome features:

Hands-free talking with great sound quality
Colour backlit display
Headset connectivity
12 hours talk time with 250-hour stand-by battery life
150 phone book capacity
Multiple handset capability – hosts 5 handsets.

BoB2™ – additional handset
$89.95

This cordless handset lets you make calls using your broadband connection as well as via a normal landline.

Hands-free talking with great sound quality
Colour backlit display
Headset connectivity
12 hours talk time with 250-hour stand-by battery life
150 phone book capacity
Multiple handset capability – hosts 5 handsets!

This handset has been specially designed for your BoB2™, and is not compatible with ordinary phone bases.

BoB Lite™
$129

BoB Lite™ is the latest modem available from iiNet, which easily connects all your devices to the internet. BoB Lite™ is sleek, stylish and packed full of features including:

Easy wireless setup and the fastest wireless speeds available
4 network ports for your computers, laptops and gaming consoles
Support for 1 standard phone line, plus 1 VOIP service
1 USB port for adding files & storage, and charging your USB-powered devices
Fetchtv compatible
Hassle-free setup – it's all done automatically once you get online
Ideal if you already have a cordless phone you'd like to use

Siemens Gigaset™ A580 Handset
$79

Keen to get talking? The Siemens Gigaset™ A580 handset is the ideal partner for your BoB Lite™ modem. With top quality sound and 25 hours of talk time, this handset will keep you in touch for longer. When plugged into BoB Lite™, the handset offers:

Brilliant sound quality on every call
A loud speaker function for crystal clear hands-free talking
Up to 25 hours talk time and 210 hours standby time
Energy saving power supply
Indoor range up to 50m, outdoor range up to 300m
Phonebook with storage for up to 150 entries
Illuminated display and keypad
2-year manufacturer's warranty

Siemens Gigaset™ E495 handset
$149

For a phone that's family friendly, the premium Siemens Gigaset E495 handset is built to last with high resistance to shocks, water and dust plus advanced hands free capabilities and up to 45 minutes of answering machine recording time.

Answering machine with up to 45 minutes recording time
High resistance to shocks, water splashes and dust
Advanced hands free talking with great sound quality
Vibracall, colour display, headset connection and up to 250 hours standby

iiNet Wireless Bridge
$119

To avoid running a long cable through the house, the iiNet Wireless Bridge offers a dedicated connection between your BoB2™ or BoB Lite™ at one end of your home and your fetchtv service, Xbox or any Ethernet enabled device that requires an internet connection at the other end.

5Ghz wireless for seamless high definition video without jitters and less interference
Auto channel selection for best optimised wireless connection
Plug and play — set up in minutes

Central Splitter
$37

Required if you have a security alarm system, 4 or more telephony devices or a 'Mode 3' phone socket. You will need to arrange your own 3rd party installer.

Central Filter
$22

Required for each telephony device (phone, fax, etc.) attached to the phone points on your nominated ADSL line. If you need 4 or more filters, a Central Splitter will also be required.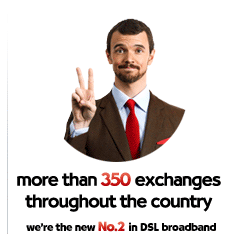 They all come shipped with the latest firmware preloaded, but we recommend checking the manufacturer's website every few months anyway.
purchase now
New customers can buy hardware when signing up for an iiNet broadband account.
If you're an existing customer, you can also purchase through Toolbox.
Any purchase of additional hardware without a modem will incur a $15 shipping fee per order (not per item). Delivery is through Australian Air Express.